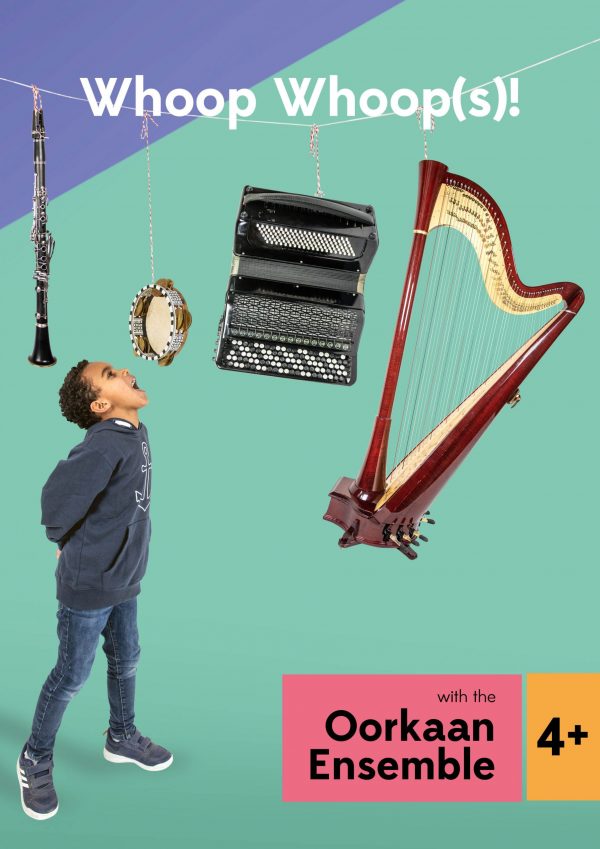 Whoop Whoop(s)!
WHAT DOES 'TOGETHER' SOUND LIKE?

First a fast flying windblow in blue. Then a paper-strong silver champion. Next, a yellow fellow full of spells and last a lady in lines, a red rebel. O, and there's Guy! How will that end? If they unite their special powers, a once-in-a-hundred-and-four-year event will create a world anew. Music fills your ears. It comes closer. Four musicians are playing happily, hoppingly, stumblingly. They celebrate something, together. Because they're together, they're in a festive mood!   
The newly founded Oorkaan Ensemble consists of four top musicians. They combine different cultures and musical traditions, while playing a staged concert. The story they tell is based on the music they play. In this case, that's quite the journey! Ending, like all stories that are worthwhile: at the party! 
Whoop Whoop(s)!, co-directed by Caecilia Thunnissen (winner YAMAward 2020) and Yorick Stam, is a dashing staged concert for families of all ages between 4-104 years old. It's filled with sounds you might (not) know, movement and humor.  
4+
bekijk agenda
On stage: Oorkaan Ensemble
In its 20th anniversary, Oorkaan presents her own ensemble, with four multi-talented, sparkling young musicians of international top level. A beautiful sublimation of everything Oorkaan has built up in 20 years of artistic signature and playing style. Harpist Michela Zanoni, clarinetist Michele Mazzini, bayanist Robbrecht Van Cauwenberghe and percussionist Veysel Dzhesur together form the Oorkaan Ensemble.
They are trained according to the Oorkaan method to become theatrical performing musicians. They play all music by heart and thus create space for theatrical performance. The repertoire they play has a double mission: to introduce as many small and large ears as possible to music performed live and to break open the canon with global classical music. The ensemble's permanent directors are Caecilia Thunnissen, artistic director Oorkaan, and artistic coordinator Yorick Stam.
Click HERE to learn more about the Oorkaan Ensemble.
Behind the scenes
directors  Caecilia Thunnissen and Yorick Stam
scenography Morgana Machado Marques 
costumes Esra Copur
tour stage technician Jeroen Oostenveld & Marco Koppers
production Jitske Weijand & Mariateresa Buttarelli 
compositions and arrangements W.A. Mozart, Fazil Say, Steven Kamperman, Emre Sihan Kaleli and Turkish classics
Caecilia Thunnissen, stage director and artistic director of Oorkaan since 2015, sees her mission as creating the best possible conditions for 'total performers' to flourish in the performing arts. For Oorkaan, she has directed Laat me met rust! (2017) with the Netherlands Chamber Orchestra,  Muzikale Catwalk (2017), Romeo & Juliette (2018) and Tarantula and the Dance of the Animals (2018), with musicians from the Royal Concertgebouw Orchestra. Caecilia was asked to create a children's production for the 100th anniversary of the Salzburger Festspiele, the world's most renowned festival of opera, music and theatre. Schräg/Strich, in collaboration with the Beija Flor Quartet, will be premiered in Salzburg, Austria, in May 2021. caeciliathunnissen.com
Yorick Stam is the artistic coordinator of Oorkaan and regular director with the Oorkaan Ensemble. Yorick also works for companies and festivals like Opera Spanga and Musica Sacra, and creates and directs productions under his own name. In addition, he is a songwriter and singer, of new Dutch-language repertoire in the spirit of Ramses Shaffy en Jacques Brel. yorickstam.nl 
The Music
Oorkaan has a dual mission: to introduce as many children as possible to classical music, and to break open the West-European canon of classical music. Oorkaan refers to the result as 'global classical music'. The Dutch Council for Culture about this ambition: The council values the strong motivation manifested by the plan – to create a broad programme and free up the traditional structure of music movements. The term 'global classical music' does justice to a more inclusive canon, in line with today's society. 
Rondo (a bit more) alla Turca (1783/2021)
Wolfgang Amadeus Mozart, arr. Steven Kamperman (1970)
Vier (2021) – Emre Sihan Kaleli (1987)
Four Colours (2021) – Steven Kamperman (1970)
– Mavi (Turkish blue)
– Turkuaz (green)
– Kırmızı (red)
– Sarı (yellow)
Dört Șehir, III. Ankara (2012) – Fazıl Say (1970), arr. Oorkaan Ensemble
(copyrighted arrangement Oorkaan Ensemble, granted by Schott Music, Mainz – Germany
grants this arrangement only in connection with the project "Whoop whoop(s)."
With friendly permission of Schott Music, Mainz, Germany
Katibim – Trad.
Black Sea Suite – (2021) Steven Kamperman (1970)
Çeçen Kızı – Tanburi Cemil Bey (1873 /1916 
20th anniversary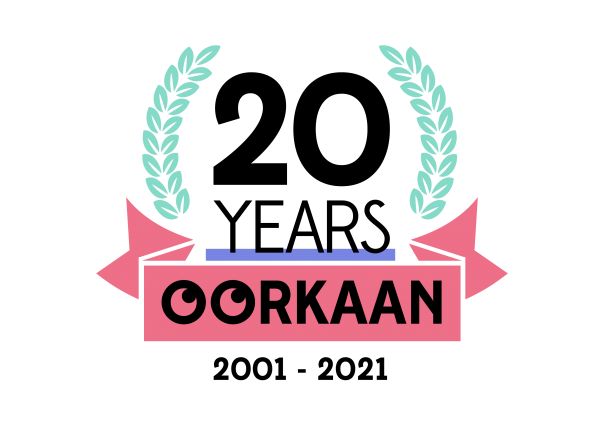 The Oorkaan Ensemble will be presented in Oorkaan's 20th anniversary year. It is a long-cherished dream come true – a sublimation of everything we have built up with regard to artistic and performance style over the past 20 years. It is the proverbial cherry on the anniversary cake. The premiere will be on the 9th of January 2022, with a pre-premiere in December 2021.
"The four-coloured musicians in beautiful costumes of Esra Copur perform Vier! A musically stimulating and mysterious theater concert with Turkish classics (by Fazil Say, among others) and new compositions and arrangements by Steven Kamperman. It is beautiful how the instruments actually become part of the players. They chase each other (and the audience) away with deep sounds, cheerful melodies or they disrupt with loud tones."

Theater newspaper