Superball, Lollipop and Mr. Classic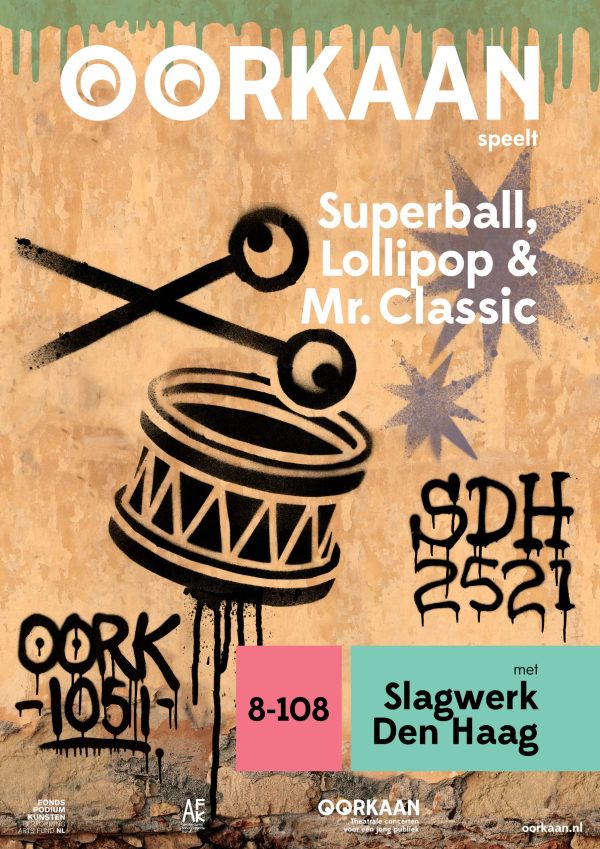 #hoeklinkt...
Beatboxer challenges female drummer challenges klassiek slagwerker. #StreetMeetsPluche
Akoestisch vs Elektronisch
Turning on your head is a matter of hard practice. Het draait het om authenticiteit. #NoFilter
Connect met de kracht van kwetsbaarheid. Dat maakt jou en de groep #unbreakable.What is your #battle?
Tijdens dit theatrale concert word je meegevoerd door de kracht van hiphop beats, klassiek slagwerk en drums. De drie musici in Superball, Lollipop & Mr. Classic vertellen een verhaal zonder woorden maar met een eigen ritme. Beatboxen, muziek en dancemoves komen samen in een spannend spel waarin we bewegen op de beat die we allemaal kennen, de beat van ons eigen hart. Wat hebben we nodig? Onszelf en elkaar! Are you ready to follow your own rhythm? Wanneer onze ritmes samenkomen zijn we onverwoestbaar!
Superball, Lollipop and Mr. Classic is een coproductie van Oorkaan en Slagwerk Den Haag.
Adviesleeftijd: 8 tot 108
Language No Problem
bekijk agenda
VOOR ZAKELIJKE BOEKINGEN, KLIK HIER
Achter de schermen
creatief team Caecilia Thunnissen, Pepe Carcia en Abdelhadi Baaddi
slagwerker/performer Vitaly Medvedev
Internationaal bekroond regisseur Caecilia Thunnissen won de YAMawards 2020 met Kriebel/Tickle (2+), een internationale coproductie van Oorkaan, De Nationale Opera en de Philharmonie Luxembourg. Thunnissen was twee jaar dansdramaturg en company manager van Dance Company Nanine Linning in Duitsland. Als operaregisseur creëerde zij meerdere semi-scenische opera's met Het Concertgebouworkest, waaronder Wagners Lohengrin o.l.v. dirigent Sir Mark Elder, genomineerd als "Opera of the Year" door Place de l'Opera Magazine en Der fliegende Holländer o.l.v. dirigent Andris Nelsons. caeciliathunnissen.com 
Pepe Garcia is een veelzijdige slagwerker/performer gevestigd in Nederland. Zijn interesse in klassieke percussie, handdrummen, compositie en improvisatie heeft geleid tot optredens in een breed spectrum van muzikale en artistieke vormen. Met een groot hart voor maatschappelijke projecten werkt hij als medeoprichter van Sonoro Foundation en communitytrainer bij Musicians without Borders (MwB) in El Salvador (Soy Música). Momenteel is hij verbonden aan de faculteit van het Koninklijk Conservatorium in Den Haag en een vaste gastdocent/adviseur aan verschillende conservatoria in Mexico en Latijns-Amerika 
Abdelhadi Baaddi begon op jonge leeftijd met human beatboxing om zich niet te vervelen op de tramhalte. Toen hij voor het eerst een cassettetape van Rahzel te horen kreeg was hij gelijk verkocht. Dit was iets wat Baaddi moest en zou beheersen. Maar het bleef bij een hobby en hij richtte zich voornamelijk op zijn studie Bouwkunde aan de Technische Universiteit in Delft. Het idee om op de planken te staan bleef echter aan hem knagen. Helemaal toen hij voor het eerst 4-ISH in de Meervaart zag. Dat was de dag waarop hij besloot: "Ik moet daar ook staan!"