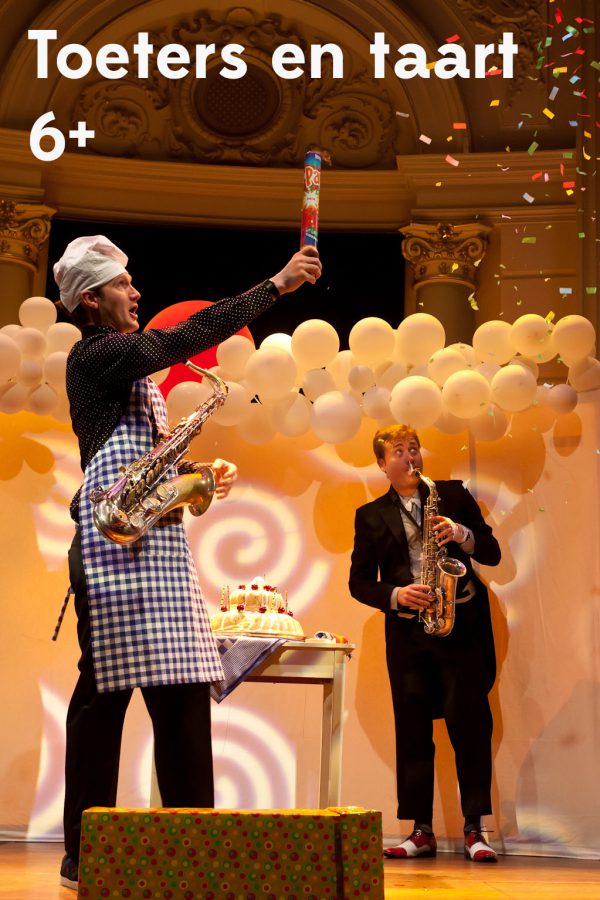 Hoe klinkt het?
Hoe klinkt een rietje? Welkom bij het concert van het Amstel Quartet. Het wordt een zeer serieus concert. Of toch niet? Misschien ontploft het concert wel in een groot feest met taart en confetti. Of het nu een concert of een feest wordt: het Amstel Quartet blaast je sowieso omver met hun saxofoons. Kom in feestkleding, we blazen het dak eraf!
Toeters en Taart is een clowneske muziekvoorstelling met de mooiste muziek voor saxofoonkwartet van onder meer Bach, Vivaldi en Haydn.
Première: 27 april 2013 in het Concertgebouw Amsterdam.
Laatst gespeeld op zondag 18 mei 2014.
Op het podium
Amstel Quartet:
Remco Jak sopraansaxofoon
Olivier Sliepen altsaxofoon
Bas Apswoude tenorsaxofoon
Ties Mellema baritonsaxofoon
ACHTER DE SCHERMEN 
Peerke Malschaert regie
Annechien Koerselman eindregie
Roos van Haaften vormgeving
Desirée van Gelderen lichtontwerp
Steffie van Lamoen kostuums
Isabel Cordeiro/Merijn Schilte decor en rekwisieten
Katrien van Beurden spelcoach