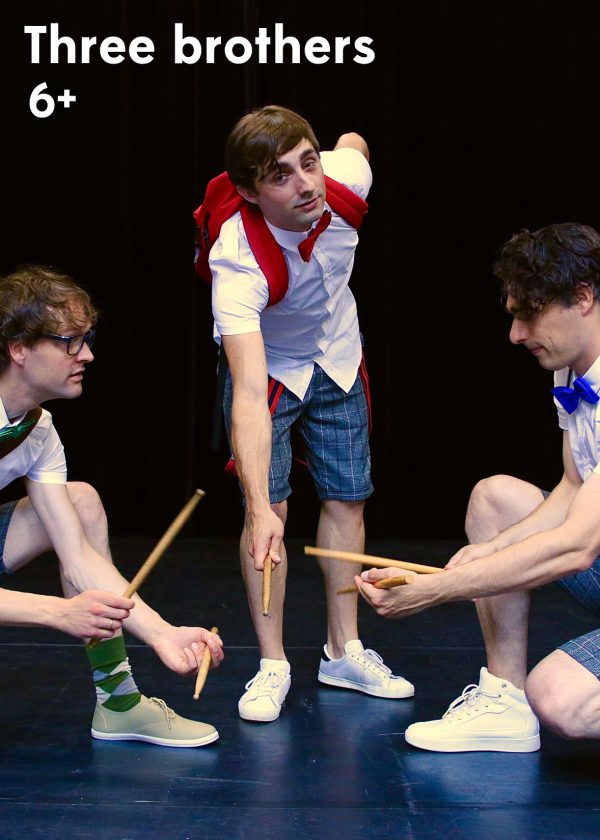 Three Brothers
Do you also sometimes have a hard time going to bed, because you can't stop playing? This is especially difficult when you have two brothers to play with!
In the production Three brothers six hands, thirty fingers, three doors and a lot of other objects play the leading part. Instead of going to bed as their mother wants them to, the brothers play and create rhythms with everything in their rooms. They beat, roll, swipe, sweep and brush. Who is the fastest, the smartest? Who dares to be quiet the longest? Meanwhile doors are making music, cymbals fly around and sticks are singing.
Three Brothers is a percussion concert about the fun between three brothers which opens your eyes and ears…
Three Brothers is based on the Oorkaan-production Trommelvuur that premiered in September 2009. The tour of Three Brothers in China (summer 2016) is organized by Hermark Culture.
6+
bekijk agenda
On Stage
On Stage:
Marijn Korff de Gidts percussion
Achim Heine percussion
Dominique Vleeshouwers percussion
Behind the scenes
Caecilia Thunnissen stage direction
Steffie van Lamoen costumes
Desirée van Gelderen light design
Credits Trommelvuur: 
Claire Leenaers/Klaus Jürgens stage direction/concept
Zita Winnubst costume design
Desirée van Gelderen light design
""Anyone who watches the faces of the children in the audience at the final piece, when cymbals are used like spinning tops, knows for sure that Trommelvuur is a successful experience.""

Slagwerkkrant, October 2009