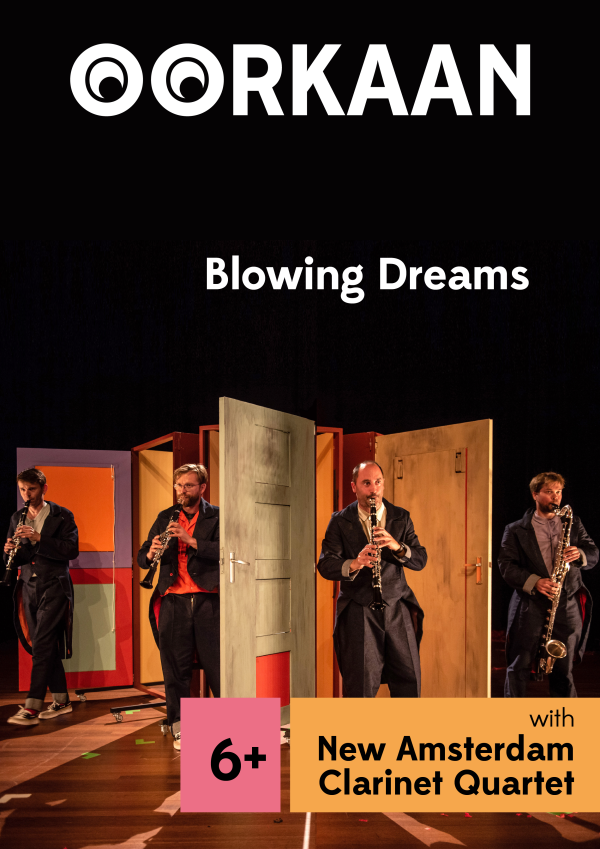 Blowing Dreams
What does imagination sound like?
Four boys make their dreams come to life. They use the keys of their imagination to open doors to new dream worlds. With youthful wonder and the occasional touch of mischief, they light-heartedly dare you to dream along with them. Dreams of parties or dancing, or dreams of reflection.
Blowing Dreams is a staged clarinet concert, in which the four men of the New Amsterdam Clarinet Quartet switch with magical smoothness between the different music styles of Gershwin, Satie, Mahler and Dvorák. After all, anything's possible in your dreams!
6+
bekijk agenda
Music
In Blowing Dreams (6+) we switch between the different music styles of Gershwin, Satie, Mahler and Dvorák.
On stage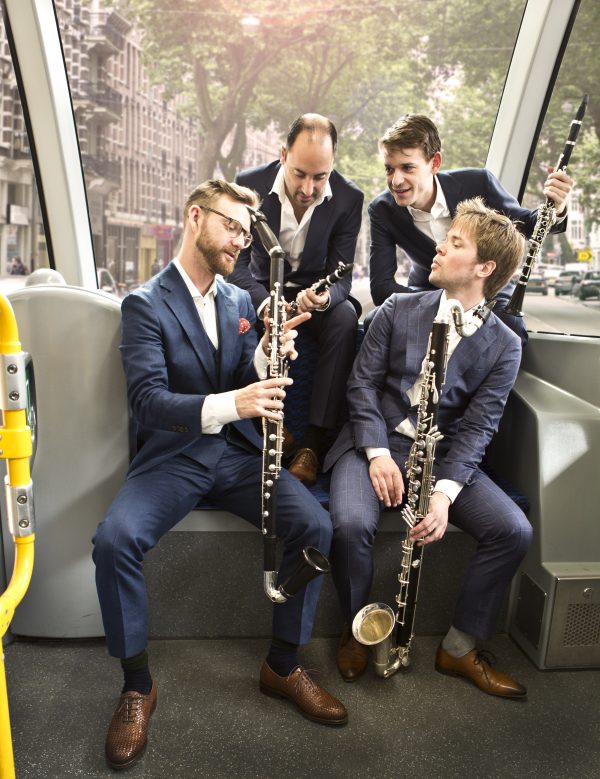 The NAKK (New Amsterdam Clarinet Quartet) is a familiar and popular ensemble on the Dutch music scene. The four versatile clarinettists studied at the Conservatorium van Amsterdam. In 2015, the NAKK was nominated for the Grachtenfestivalprijs. Musician Bart de Kater has previously performed with Oorkaan in Koos en de Kapotte Kopjes and Krabat. In the 2018-2019 season, musician Jesse Faber performed in De Familie van Nielie, a co-production by Oorkaan and Theatergroep Kwatta.
Behind the scenes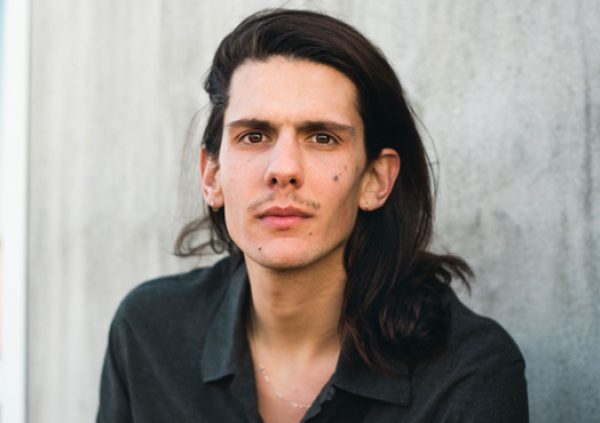 director Mart van Berckel
The talented young director Mart van Berckel studied piano, music theatre and directing at ArtEZ Arnhem and the Zürcher Hochschule der Künste in Zürich. His graduation production 'PLAY MAIDS' won the audience award at Festival Studio Körber Junge Regie, in Hamburg. Mart used a two-year subsidy from the new makers' scheme from the Performing Arts Fund NL to create productions for Kameroperahuis and Productiehuis De Nieuwe Oost. He has worked as a director's assistant with Dutch National Opera and directs productions for Noord Nederlands Toneel and Club Guy & Roni. Blowing Dreams is Mart's first production for Oorkaan.
"'Mart van Berckel's work is visual, poetic and boundlessly imaginative. Fascinated by our subconscious, he puts worlds on stage that have their own internal logic and sometimes seem to come straight from our dreams or nightmares'" – Theatermaker
CREDITS
musicians of New Amsterdam Clarinet Quartet
Tom Wolfs, Jesse Faber, Bart de Kater and Sergio Hamerslag
director Mart van Berckel
scenographer Vera Selhorst
stage technician Jessy van Adrichem
with thanks to Erin Coppens
artistic director Caecilia Thunnissen
"Thanks for a wonderful performance – also on behalf of my grandson. Our compliments to the NAKK! "

Paul Witteman (Podium Witteman)
"Joa thought it was fantastic. 'They don't say a word. They talk through their instruments'. "

Joa (6)