Mission & Vision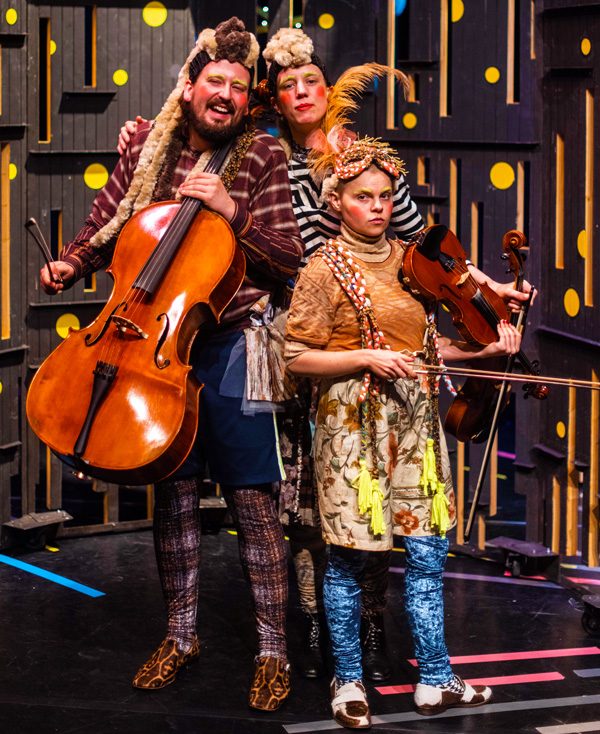 OORKAAN
A feast for eyes and ears!
Oorkaan collaborates with professional musicians in giving theatrical concerts for young audiences. They give as many big and small ears as possible the chance to discover the infinite world of music. Classical music from past and present, and from all over the world, is performed in theatrical and surprising ways. Like a concert, an Oorkaan performance is practically wordless, and only musicians appear on stage.
Music belongs to everyone. You can understand music without saying a word. It might move, inspire or annoy you, but it never leaves you untouched. Music creates scope for imagination and wonder. And when it's performed live in a group, then music connects.
About Oorkaan
OORKAAN METHOD
Founded in 2001 in the Concertgebouw Amsterdam, Oorkaan is the internationally awarded organization that dedicates itself to the creation of high quality staged concerts for young audiences. Since 2015 artistic director Caecilia Thunnissen has developed the artistic signature of Oorkaan by using the 'Oorkaan method' – in which music is the prime focus and all the performers are musicians.
MASTERCLASSES OORKAAN METHOD
The Oorkaan Method is an internationally recognized Method to create a staged concert with acoustic, global classical music. The Method focuses on the creation of scenic material based on the music and the musicians, and also on the development of the musician as a total performer. Musicians and stage directors can learn this Method by Masterclasses led by Caecilia Thunnissen and her artistic team. Interested to book a Masterclass? Read on HERE.
DEVELOPING TALENT & MUSIC
The fact that Oorkaan is a multiple prizewinner of the international Young Audiences Music  Awards (YAMawards) for the best music productions for children indicates Oorkaan's unique position in the performing arts and its global pioneering role in the genre of music for children. This role forms the basis for Oorkaan's investment in reaching new audiences and developing the talent of makers and young musicians. In OTOPs (Oorkaan Talent Development Programmes), Oorkaan gives them the scope to develop a new vision of creating and performing productions for both young and old.
FRINGE PROGRAMME & EDUCATION
Every year, Oorkaan gives around 200 staged concerts all over the world. Through them, we reach approximately 40,000 audience members, including over 9,000 schoolchildren who do not normally have access to live performances of world classical music. In-depth educational programmes related to the productions are developed for venues, for schools (the concert hall as classroom) and online for home learning.
WORLD CLASSICAL MUSIC
Oorkaan breaks open the West-European canon of classical music with other timbres. World classical music is an inclusive canon that is a good match for today's society and a wide audience.
OORKAAN IN THE CHAIN
Since its foundation in the Recital Hall of the Concertgebouw in 2001, Oorkaan has traditionally worked with renowned chamber music ensembles and orchestras. Oorkaan forms an essential link in the chain of the Dutch music sector: today's young listeners are the concert-goers of tomorrow and the leading musicians of the future.
Click HERE to read more about Oorkaan.
Did you know? * The name 'Oorkaan' is a pun on the Dutch word 'orkaan', meaning 'hurricane'. The word 'oor' means 'ear'. In a translation the word 'hearricane' might come close to the meaning of 'Oorkaan'.
Oorkaan Radio Plays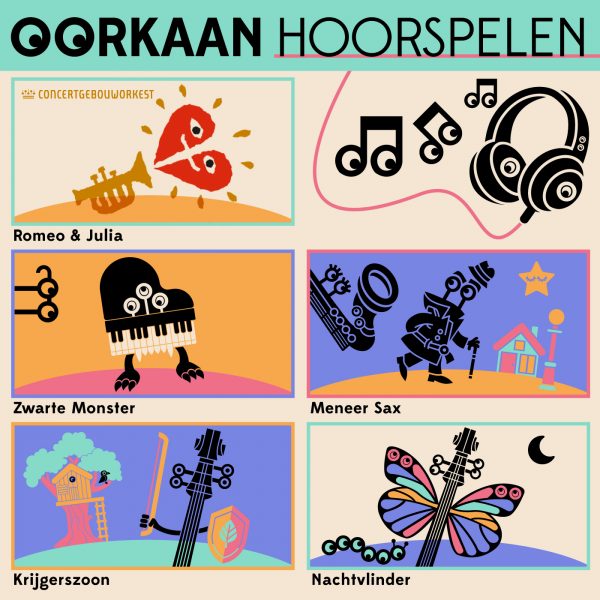 After the successful launch of the radio play Romeo and Juliet, the radio plays Black Monster with Tobias Borsboom, Warrior's Son with the Cello Octet Amsterdam, Night Butterfly with the Dudok Quartet Amsterdam and Mister Sax with the Ebonit Saxophone Quartet are now also available online in Dutch. Sanne Schuhmacher wrote short stories in which word and music alternate as narrators, with 'different voice-actors, by a concept of and directed by Caecilia Thunnissen.
Starting in 2017 Oorkaan developed various radio plays in addition to her theatrical concerts, to stimulate the imagination and develop the ability to listen. Precisely at a time when attending live concerts is not a given, Oorkaan offers a unique online listening experience, in which the whole family can enjoy the most beautiful sounds of a.o. Bach, Bartók, Beethoven, Brahms, Ravel, Mendelssohn and Tchaikovsky.
The radio plays are online available in Dutch on o.a. Storytel, Kobo, Luisterrijk, Cliffer, Youtube Music, Napster, Google Play, Boeken.com, Libris, De Slegte,Bol.com and Nextory.
CALL! For the further development and distribution of Oorkaan's radio plays, Oorkaan is on the look-out for interesting partners to collaborate with in '21. Are you actively involved in the field of radio plays, whether through distribution, radio-shows, podcasts and/or a production company with voice-actors? Then we might just be interested in you.
Prizes & Nominations
Winner YAMawards 2020 (Young Audiences Music Awards) for 'Best Small Ensemble' – Tickle*
Nomination ZAPP Theaterprijs 2019 – Cellokrijgers
Winner YAMawards 2018 for 'Best Production of the Year' and 'Best Large Ensemble' – Shadow Music (Skyggespill)*
Winner YAMawards 2015 for 'Best Production of the Year ' and 'Best Small Ensemble' – Glimpse*
Nomination YEAH Awards 2015 (Young Earopean Awards) – Cellostorm*
Nomination YAMawards 2013 – Cellostorm*
Winner Junge Ohren Preis 2012 – The Music Factory*
Nomination Amsterdamprijs voor de Kunst 2013 & 2017
*These are international awards for the best music productions for young audiences.

Contact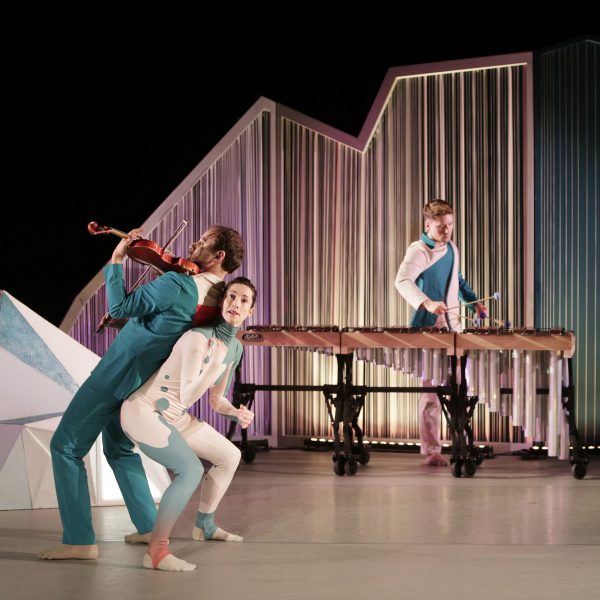 For more information about Oorkaan and our productions, please contact Evi Meijer:
bookings@oorkaan.nl 
T: +31 20 24 40218
Oorkaan
De Kempenaerstraat 11b
1051 CJ Amsterdam, The Netherlands
info@oorkaan.nl | T.+31 20 620 2828
Oorkaan is a member of Assitej The Netherlands. Oorkaan receives structural funding by the Performing Arts Fund NL and the City of Amsterdam. 
Click here to subscribe to our international newsletter.
"In performances for young audiences it's not uncommon to see musicians on stage – and sometimes taking the lead role. But nobody on the Dutch scene, and maybe even in the whole world, places such radical emphasis on the music and the musicians as Oorkaan. "
Funded by