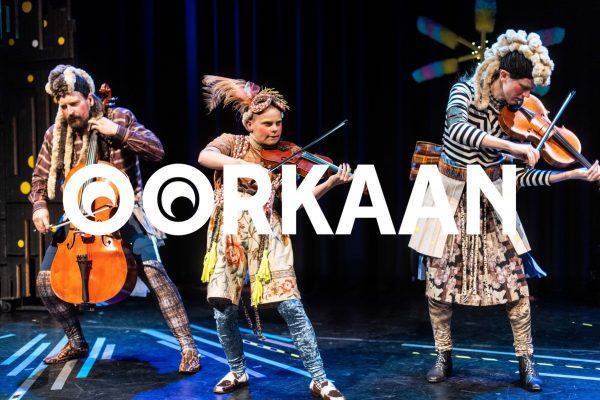 Oorkaan produceert theatrale concerten voor een jong publiek. Onze missie is om zo veel mogelijk kleine en grote oren kennis te laten maken met klassieke muziek uit de hele wereld, van vroeger en nu. Met zo'n 200 voorstellingen bereikt Oorkaan jaarlijks rond de 40.000 bezoekers.
Oorkaan werkt samen met topinstellingen uit binnen- en buitenland: Koninklijk Concertgebouworkest, Nationale Opera & Ballet, Salzburger Festspiele en Brooklyn Academy of Music New York. Verschillende Oorkaan-producties zijn bekroond met de internationale Young Music Audiences Award, waaronder dit seizoen nog de voorstelling Kriebel (2+).
Voor haar werk wordt Stichting Oorkaan structureel gesubsidieerd door het Fonds Podiumkunsten en het Amsterdams Fonds voor de Kunsten. De stichting werkt volgens het bestuur-directie-model, vastgelegd in een bestuurs- en directiereglement. De dagelijkse leiding is in handen van artistiek directeur Caecilia Thunnissen en zakelijk leider Jennifer
Thompson. Het bestuur bestaat uit vijf leden en werkt onbezoldigd.
Vanwege het periodiek aftreden van één van de bestuursleden zoekt het bestuur een:
Penningmeester
die zich vanuit haar of zijn expertise wil inzetten voor de jeugdmuziek.
Wij zoeken iemand die:
– grote liefde heeft voor de jeugdpodiumkunsten en/of mondiale klassieke muziek;
– sterk financieel-strategisch onderlegd is;
– ruime ervaring en netwerk heeft in de podiumkunsten, en daarmee een goede sparringpartner is voor de zakelijk leider;
– bij voorkeur op dit moment werkzaam is als zakelijk leider of directeur bij één van de theaters of concertpodia in Nederland.
Oorkaan onderschrijft de Code Culturele Diversiteit en Inclusie en heeft zich ten doel gesteld om als organisatie een afspiegeling van de maatschappij te zijn. Bij gelijke geschiktheid gaat de voorkeur uit naar de kandidaat die de diversiteit binnen ons team versterkt.
Reageren?
We zien reacties graag tegemoet via info@oorkaan.nl. Ook voor eventuele vragen kunt u via dit emailadres contact opnemen.