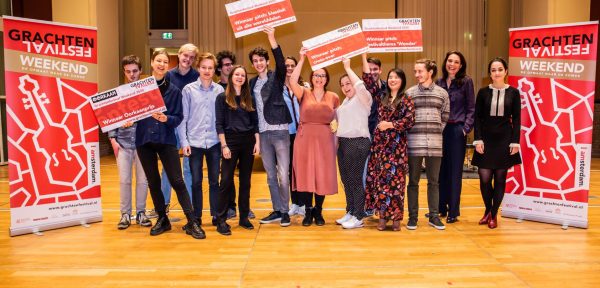 OORKAANPRIJS VOOR MUSICI / ENSEMBLES
wordt uitgereikt tijdens De Opmaat op het Grachtenfestival
Oorkaan, ontstaan in 2000 in de kleine zaal van het Concertgebouw, is al twintig jaar de enige in jeugdmuziek gespecialiseerde instelling in Nederland die op internationaal hoog niveau jeugdmuziekvoorstellingen creëert. Regisseur Caecilia Thunnissen ontwikkelde bij haar aanstelling als artistiek directeur in 2015 'de Oorkaan-methode'. Deze werkwijze is bepalend voor de eigen artistieke signatuur van Oorkaan, waarin álle performers musici zijn en de muziek centraal staat.
Oorkaan bekleedt een unieke positie in de podiumkunsten en is wereldwijd voorloper op het gebied van het genre jeugdmuziek. Vanuit die rol investeert Oorkaan in de opbouw van nieuw publiek en in de talentontwikkeling van makers en jonge talentvolle musici. Bij Oorkaan krijgen zij binnen de OTOP's (Oorkaan Talent-Ontwikkelprogramma's) de ruimte om een nieuwe visie op het maken en spelen voor jong én oud te ontwikkelen.
OORKAANPRIJS
Musici en ensembles die hun ideeën pitchen tijdens De Opmaat van het Grachtenfestival, maken kans op de Oorkaanprijs: een deelname aan de O-TOP, een driedaagse workshop in de unieke Oorkaan-methode, een internationaal erkende benadering om met akoestische, mondiale klassieke muziek een theatraal concert te maken. De Methode richt zich enerzijds op het creëren van scenisch materiaal op basis van de muziek en de musici, en anderzijds op de ontwikkeling van de musicus tot veelzijdig performer.
Onder begeleiding van artistiek directeur Caecilia Thunnissen en een theater- /speltrainer ga je aan het werk met een jonge getalenteerde regisseur, die al ervaring heeft in het werken met de Oorkaan-methode. Drie dagen lang onderzoek je de Oorkaan-methode, werk je aan basale speltechnieken en aan het plaatsen van je muziek en je lichaam in de ruimte. De laatste dag sluiten we af met een openbare presentatie op het Grachtenfestival.
"Ik heb enorm genoten van de O-TOP!" Dineke Nauta, Ebonit Saxophone Quartet
"The coachings were really nice, we got to know each other in the group better. (…) Would have been interesting to go on working a few more days." Johannes Pfeuffer, Ebonit Saxophone Quartet
VOOR WIE?
De Oorkaanprijs wordt uitgereikt tijdens De Opmaat bij het Grachtenfestival Amsterdam, aan de musici of het ensemble met de grootste theatrale kracht.
Het Oorkaan Talent Ontwikkelingsprogramma wordt mede mogelijk gemaakt door het Fonds Podiumkunsten.