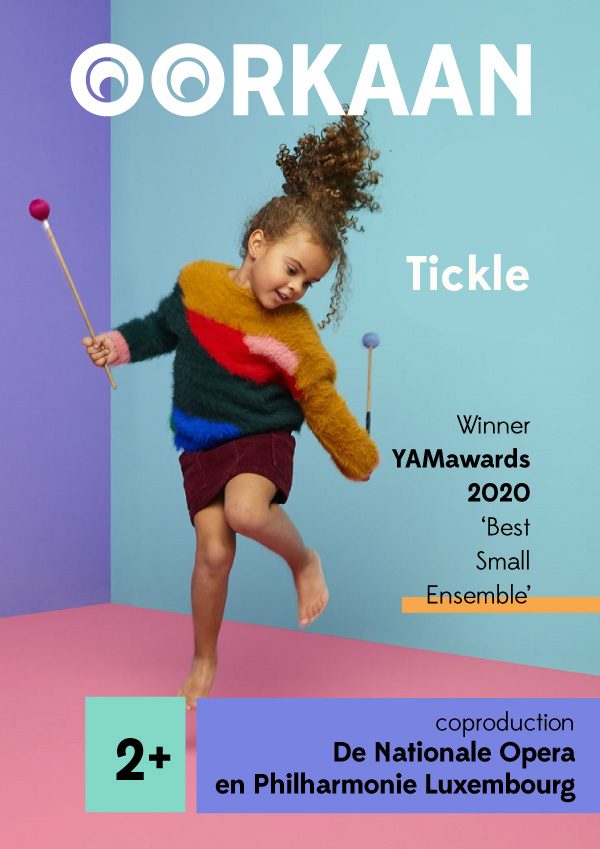 About Tickle
What does a tickle in your tummy sound like?
And what happens when that tickle gradually escapes through your throat and mouth, floats on the air, flies through space, slips through the violin, and whoosh, creeps into the marimba? A violin-playing singer, a dancing percussionist and a singing dancer transport the young audience in a light-hearted encounter between dance, music and voice. Tickle is a stirring, poetic and moving concert for young children about the expressive powers of sound and movement. It tickles all the senses.
Following the international success of Glimpse, which has been performed all over the world since winning the YAMaward in 2015, we are now presenting a new production for children aged 2 to 4 and their (grand)parents.
PREMIERE: October 2019, National Opera & Ballet, Amsterdam
Tickle is an international coproduction of Oorkaan, Dutch National Opera & Ballet and Philharmonie Luxembourg.
Tickle is a small-scale production with a maximum audience capacity of 100 children and parents per concert.
We are thrilled to announce that Tickle is nominated for the The Young Audiences Music Awards (YAMawards) 2020 in the category "Small Ensemble". The YAMawards Public Choice Awards will be given to the production with the most votes. Vote for Tickle via bit.ly/YAMawards_Kriebel!
2-4
bekijk agenda
Credits
Tiemo Wang voice & violin
Vitaly Medvedev marimba & dance
Sarah Reynolds dance & voice
Caecilia Thunnissen director
Leonard Evers compositions
Milena Sidorova choreography
Erin Coppens dramaturg
Tessa Verbei scenography
Merel Marken van Lichtenbelt costumes
Tiedo Wilschut light design
Roos de Bruin, Esther Datema seamstress
Paulina Kropok scenography assistance
Roy van Zon tour production
Monica Kösters project manager
Vincent van der Wolf, Minjon Olgers technical production NO&B
Wendy van Os production Oorkaan
Leonard Evers is a composer and conductor. His music includes elements of jazz, world music and contemporary music. His children's opera Gold! for Theater Sonnevanck was published by Boosey & Hawkes. For Oorkaan, he composed the music for Koos en de Kapotte Kopjes and Krabat (best music award).
Baritone Tiemo Wang began his career as a violinist. He has performed in orchestras like Het Gelders Orkest and the Dutch radio orchestras. As a singer, he performed with companies in the Netherlands and abroad, including Dutch National Opera and the Nationale Reisopera. Tiemo has also been working with Silbersee, a production centre for unorthodox music theatre and opera.
Vitaly Medvedev is a percussionist, performer and the co-founder of SonoLab Duo. Vitaly studied at the Conservatory in St. Petersburg, at the Conservatory of Groningen, and got his Master's degree at the Royal Conservatoire in The Hague. Vitaly regularly works with Slagwerk Den Haag and ensembles like Klang, Silbersee, Asko|Schönberg and Orkater. He previously performed with Oorkaan in Mr Tobias and the Black Monster, proving that besides being a percussionist he is also a gifted dancer.
Sarah Reynolds danced with the Nederlands Dans Theater for 15 years. She has created and danced ballets by a.o. Jiri Kylian, Sol León and Paul Lightfoot, Johan Inger and Hans van Manen. As well as working in dance and theater, she recently branched into film. The Beast in the Jungle (2019) by director Clara van Gool, her first feature film is in cinemas since March 2019.