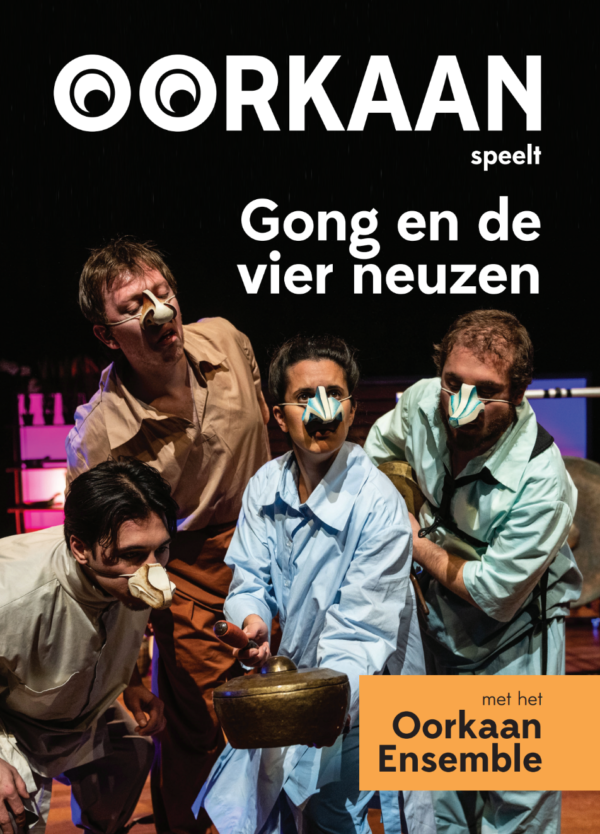 What does it sound like?
BOING! Who hit the gong? Four noses point in all directions. There's so much to discover. Instruments with buttons, strings and golden keys, and even a great big round one. And somewhere, there's a hidden Nose. Is it the Partygoer's nose? Or is it an elephant's trunk? An adventure unfolds that makes the Noses look past their own ends. And if you get a lid on your nose, you just make music with it, right?
The Oorkaan Ensemble collaborates with various creators who have ties with Indonesia and who are all inspired by the enchanting and hypnotic music of Indonesian gamelan. The musicians wear their noses with pride, like contemporary versions of the famous Indonesian Panakawan jesters. Musical jokes and poetic sounds come together in this staged concert.
5+
bekijk agenda
On Stage
"Gong and the Four Noses" is Oorkaan's second production with the Oorkaan Ensemble, that consists of harpist Michela Zanoni, bajanist Robbrecht Van Cauwenberghe, percussionist Veysel Dzhesur and clarinettist Michele Mazzini. A special mention goes to Mazzini, who also performs with the Gamelan Orchestra at the Gamelan House, in Amsterdam, and is a driving force behind the performance. He was commissioned by the Performing Arts Fund NL to compose a piece especially for this production.
Credits
director Yorick Stam
set designer Morgana Machado Marques
costume designer Loïs Brandsen
lighting designer Jeroen Oostenveld
content advisor Lara Nuberg
workshop Javanese Gamelan Michiel Niemantsverdriet, Wulan Dumatubun
training pencak silat Gerindo Kartadinata
educational kit Esther Hulst
tour technician Jeroen Oostenveld
production manager Selma Hanzon-Keijzer
artistic director Caecilia Thunnissen
Music
Claude Debussy(1862 – 1918) Estampes, L.100, I. Pagodes (1903) (arr. Robbrecht Van  Cauwenberghe) 
Michele Mazzini(1995) Due Nasi – I. Primo Naso (2022) 
Sinta Wullur (1958) Si Empat (2022)  
Michele Mazzini (1995) Due Nasi – II. Secondo Naso (2022)  
Ki Nartosabdo(1925 – 1985) Swara Suling (arr. Lars van der Meer / Oorkaan Ensemble) 
Iwan Gunawan (1973) Gembyangan (arr. Iwan Gunawan) (2011)  
Gesang Martohartono (1917 – 2010) Bengawan Solo (arr. Filipus Wisnumurti Pranoto)  (1940) 
https://open.spotify.com/playlist/73SUAjTpgQLvagp2O4hBcB?si=87af374302894d5a