How does it sound?
BOING! Who banged the gong there? Four noses point in all directions. There is an awful lot to discover. Instruments with buttons, strings, golden keys and even a very large round one. And somewhere a Nose is hidden. The Party Nose? Or is it an elephant's trunk? A quest unfolds that makes the Noses look further than they are long. And when you get a lid on your nose, you just make music with it, right?
This theatrical concert with the Oorkaan ensemble offers a extraordinary visual listening experience for the whole family, taking each concertgoer into the colorful world of Indonesian sounds and gamelan. Theatrical elements, humor and beautiful music make this concert experience for anyone 5 years and older attractive. And "Language no Problem," because the only language there is the music.
Read the music review from Theaterkrant.nl here

Advisory age: 5 to 105
Language No Problem
Listening guide:

Funny

Enchanting
On the stage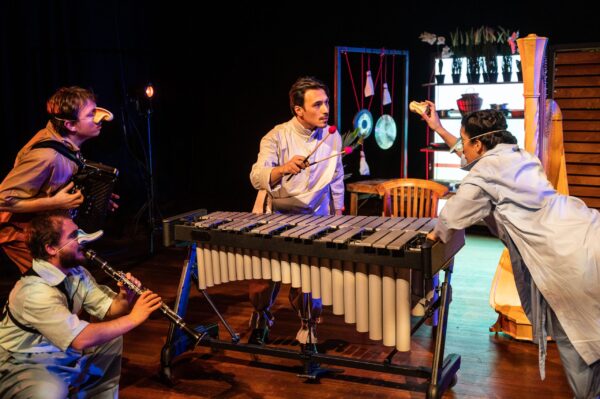 The Oorkaan Ensemble  
Oorkaan presented in September 2021, in honor of its 20th anniversary, its own ensemble with four multi-talented sparkling young musicians of international excellence. A beautiful sublimation of everything Oorkaan has built up in 20 years of artistic signature and playing style. Harpist Michela Zanonic, clarinetist Michele Mazzini, bayanist Robbrecht Van Cauwenberghe and percussionist Veysel Dzhesur are trained according to the Oorkaan method. They play all music from memory, creating space for theatrical performance. The repertoire they play has a double mission: to introduce as many small and large ears as possible to music performed live and to open up the canon with global classical music.  
The Oorkaan Ensemble collaborates with various creators who have a connection to Indonesia. They are inspired by the enchanting and hypnotic Indonesian gamelan music. The musicians wear their noses with pride, as contemporary versions of the famous Indonesian Panakawan jesters. Musical jokes and poetic sounds go hand in hand in this theatrical concert.
The music
Claude Debussy (1862 – 1918) Estampes, L.100, I. Pagodes (1903) (arr. Robbrecht Van Cauwenberghe)
Michele Mazzini (1995) Due Nasi – I. Primo Naso (2022)
Sinta Wullur (1958) Si Empat (2022)
Michele Mazzini (1995) Due Nasi – II. Secondo Naso (2022)
Ki Nartosabdo (1925 – 1985) Swara Suling (arr. Lars van der Meer / Oorkaan Ensemble)
Ivan Gunawan (1973) Gembyangan (arr. Iwan Gunawan) (2011)
Song Martohartono (1917 – 2010) Bengawan Solo (arr. Filipus Wisnumurti Pranoto) (1940)
Behind the scenes
composition Sinta Wullur
composition Michele Mazzini

Direction Yorick Stam 
set design Morgana Machado Marques
costume design Loïs Brandsen
lighting design Jeroen Oostenveld
substantive advice Lara Nuberg
workshop leaders Javanese Gamelan Michiel Niemantsverdriet, Wulan Dumatubun 
trainer pencak silat Gerindo Kartadinata 
tour technique Jeroen Oostenveld 
production manager Selma Hanzon-Keijzer
artistic leader Caecilia Thunnissen 
Upcoming concerts
Dawn
with Amsterdam Andalusian Orchestra
3:00 PM,

Maaspodium, Rotterdam
Dawn
with Amsterdam Andalusian Orchestra
11:00 a.m.,

TivoliVredenburg, Utrecht
Dawn
with Amsterdam Andalusian Orchestra
2:00 p.m.,

TivoliVredenburg, Utrecht
Book this performance
Fill out the form below to request a booking. For more information you can also look at the bookings page.
"*" indicates required fields