In het kader van de Jeunesse-Oorkaan-Academy traint artistiek directeur Caecilia Thunnissen met een paar vaste trainers van Oorkaan, musici en makers in het spelen en creëren van theatrale concerten voor een jong publiek. De academie bestaat uit masterclasses verspreid over een half jaar en deelname aan Triolino, een serie van vier concerten van Jeunesse – musik.erleben in samenwerking met Wiener Konzerthaus voor kinderen vanaf 3 jaar. In maart is het programma op de Grafenegg Campus live van start gegaan.
De groep musici bestaat dit jaar uit:
– Duo Rabonde (klarinettist Felicia Bulenda en cellist Maike Clemens)
– Maat Saxophone Quartet (sopraansaxofonist Daniel Ferreira, altsaxofonist Catarina Gomes, tenorsaxofonist Pedro Silva en baritonsaxofonist Mafalda Oliviera)
– Een ensemble bestaande uit Kaja Wlostowska (slagwerk), Sophie Renger (blokfluit), Tobias Pöcksteiner (elektrische basgitaar en contrabas)
– Een ensemble bestaande uit Natalia Kubalcova (viool), Carla Oliveras (cello) en Dušan Sretovic (piano).
De geselecteerde makers zijn: Kirin Espana (danstheater), Marlene Schleicher (muziektheater), Nika Bauman (performance) en Cornelia Voglmayr (choreografie).
Intensieve masterclass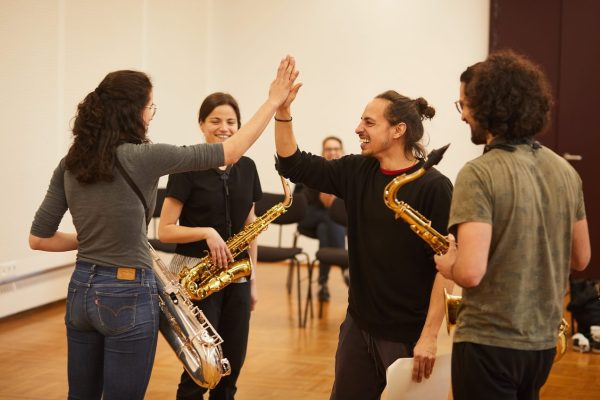 De 15 jonge musici en makers hebben in april, als vervolg op de online masterclass in februari en de basis masterclass in maart, de intensieve masterclass van de Jeunesse-Oorkaan-Academy gevolgd.
Maat Saxophone Quartet
over de masterclass: "We can't express how happy we are after such experience… We got to learn a bunch of new things, some of them really unexpected, which makes it even more exciting." Ook Duo Rabonde kijkt voldaan terug op de intensieve masterclass: "We had so many beautiful moments at last week's Jeunesse-Oorkaan-Academy. We got to learn so much, had great creative exchange with a wonderful group of people and cannot wait to show you the results on the Family day in Grafenegg 19th of June."
Ben je geïnteresseerd in het eindresultaat van de Jeunesse-Oorkaan-Academy? Op 19 juni 2022 zal de presentatie plaatsvinden tijdens de Grafenegg Familientag in Oostenrijk: http://www.grafenegg.com/…/graf…/grafenegger-familientag.
In samenwerking met het MUK conservatorium Wenen.
Foto's: Paul Krehan