Repetities van Superball, Lollipop and Mr. Classic zijn gestart!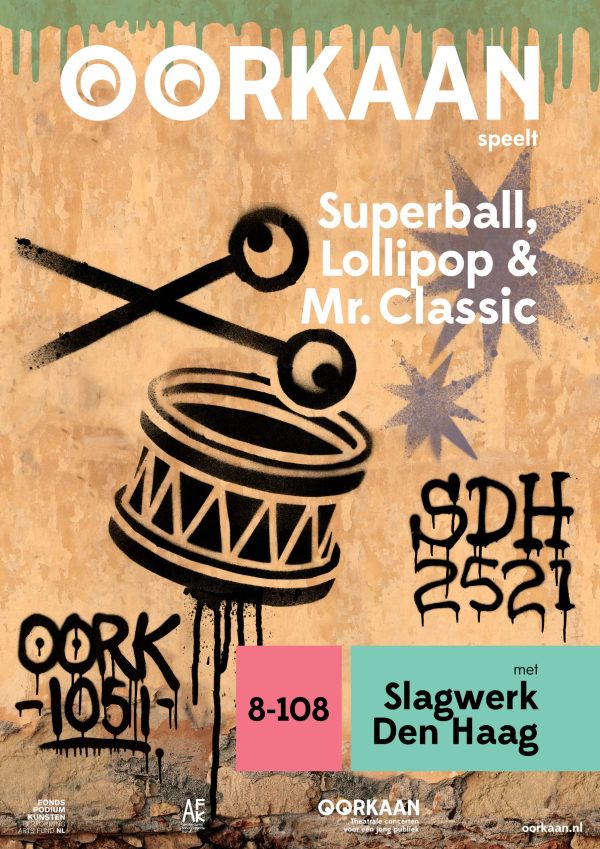 Op 15 november zijn de repetities van Superball, Lollipop and Mr. Classic met Slagwerk Den Haag van start gegaan. We kunnen nu bekendmaken dat de Oostenrijkse Cornelia Voglmayr dit theatrale concert met hiphop beats, klassiek slagwerk en drums zal regisseren! Cornelia over de regie:
"Het is een groot voorrecht om met zo'n bijzondere cast van musici te werken volgens de Oorkaan Methode. Ik heb percussionisten en beatboxers altijd gezien als geweldige bewegers en artiesten. Al spelend maken ze met hun lichaamstaal het ritme zichtbaar. Ze bewust maken van die vaardigheid en dit gebruiken om een theatraal concert te creëren is een droombaan. Ik kan niet wachten om te beginnen!"
Op 14 december zal er een eerste presentatie plaatsvinden voor onze Kinderraad voor Muziek, waarbij ze de makers en musici het hemd van het lijf zullen vragen! Houd onze website en social media daarom in de gaten voor unieke behind-the-scenes beelden.
Superball, Lollipop and Mr. Classic (8 – 108 jaar) met Slagwerk Den Haag gaat op 26 februari 2023 in première in Amare, Den Haag. Daarna volgt een tournee door het hele land. Klik hier voor de speellijst.